DRESS 30s SILK VINTAGE LACE WEDDING BALLGOWN 20s 40s VAMP GATSBY DECO GODDESS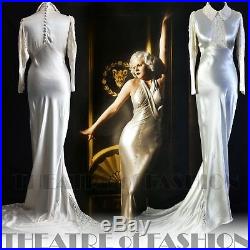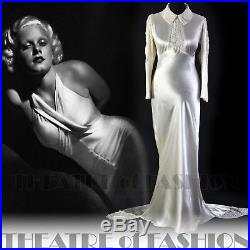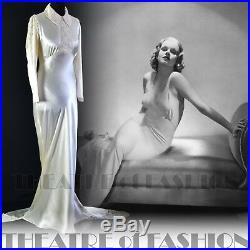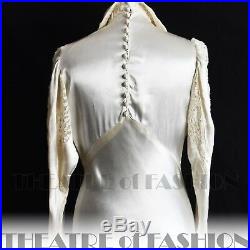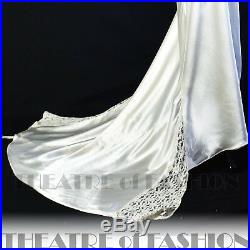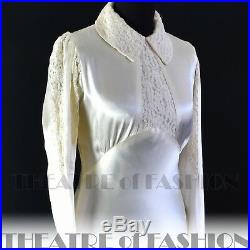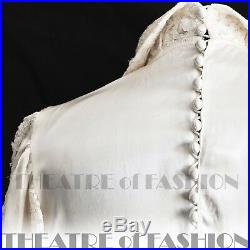 THE MOST BEAUTIFUL DRESS IN THE WORLD. True Vintage/Antique original 1930s Art Deco 100% fluid liquid ivory silk and lace, dress/wedding dress/ball gown/evening gown/red carpet gown One in a million and very rare to find 1930s elegant luxury, gently hour glass bias cut with inserted lace and beautiful train, so luxurious. Essences : Original Vintage 1930s Jean Harlow Art Deco Wedding Gatsby Sensual Elegance Romance Putting on the Ritz 1920s Red Carpet 40s Femme Fatale Vamp Silver Screen Goddess.
Glamour Old Hollywood Debutante Ball Black Tie Dinner/Dance Supermodel Luxury Desirable Beautiful.. The moon hangs low in the mist, full and expectant, a glowing brilliance claiming the sky's canvas for itself.
Its light gently falls into her eyes as she walks across the veranda, the hem of her sweeping silk gown spilling around her feet like a waterfall of liquid light. The elegance of her hourglass silhouette steals glances from inside the ball room, captivated and enchanted faces looking out, their breath momentarily captured, stilled by her beauty in the moonlight. Soft music floats out into the dusk-filled air, encircling her as she turns to lean on the railing, her liquid dress moving with her like a skin, ivory, like a soft white dove, her form etched in iconic 1930s shaping. The curvaceous bodice, defined in subtle fluid elegance and lace, down, smoothly, to her hour glass waist, and from there, falling in deep soft folds of liquid silk, creating movement, like music all around her, skimming her body, down over her hips, an epitome of glamour, the vampish beauty of the silver screen, like Jean Harlow illuminated in the spotlight of the moon. She turns to look out into the quieting night, revealing the full sweep of the dress's back, tapered in at the waist, with a cascade of silk falling to form the skirt, like an upturned Lily pooling onto the floorboards. The touch of Vionnet and her classically draped and bias cut designs lives in this dress, along with the grace and romance of 1930s Hollywood, all the places where dreams meets inspiration. Watching the stars appear one by one in the blanket of night, she pins her wishes to each one, mapping out dances yet to dance and a million ways to shine. And then, she lets the music take her.. A better example of a rare 100% liquid silk true vintage 1930s wedding dress/ball gown is almost impossible to find!
This gorgeous piece, in such a stunning shade of ivory, is truly unique and very rare so evocative of the classic 30s style and shape and in the most fantastic condition, set off with a showstopping train and folds of bias cut liquid fluid silk, and the addition of inserts of soft lace, creating this already exquisite dress into pure magic. The stunning bodice is the most flattering shape that subtly accentuates the female form and flatters all body shapes beautifully superb detailing with beautiful lace to the collar and sensually attractive bodice insert. The sleek waist is elegantly and beautifully drawn in, gently, without clinging. The sensational skirt is utterly magnificent, with a flow and movement you will adore, i.
T flares gently from beneath the bodice and skims the hips, front and back, bias cut to create a sensuous, sleek silhouette before falling into divine drapes of luscious liquid silk.. And with the incredible glamorous train at back.
That shines in shades of shimmering ivory silk. Trimmed with soft lace and with finger hoop so you can hold out your skirt as you walk and dance, well what can we say, this exquisite dress is absolutely fit for a goddess... Masses of small self fabric buttons draw the eye to the back of the dress, as you turn, so beautiful with your hair piled up, just add some flowers in your hair, or a small Art Deco tiara. Legant, full length sleeves, in stylish 30s mode, with added inserts of soft lace.
We have estimated sized based on measurements. This dress may fit a variety of sizes please see measurements / sizing below. N addition, a seamstress could very easily alter dress to fit if needed. The fabulous dress is in excellent vintage condition and with wonderful bias cut tailoring as with all vintage items there might be a couple of very faint marks here and there, but you would have to peer to find them in the folds of fabric... Please note that there might be the smallest of small breaks to tiny places in the lace but only if you pour over the dress to find any, we could not find anything to report while checking or photographing, forgive us if we missed a tiny place here or there. There have been some very careful very professional mends to the lace in a few small places, these look to us to be very vintage mends and are utterly in keeping with the dress, and nothing added to the original lace at all, you would be hard pressed to identify them. This dress is in really beautiful condition and remember it is nearly 100 years old! Rare, very sought after, and exceptional. Subtle and elegant styling, beautiful bodice shape, accentuated waist, a sleek body skimming skirt which caresses your shape before draping into silken waves that pool at your feet in a perfect waterfall of sumptuous, sensual silk. This dream of a dress has no fabric label but is fashioned in 100% soft luxury silk, this is a fluid liquid luxury silk, which looks like pale molten ivory and feels like the softest liquid silk which you don't get in modern silks, slips through your fingers, skims the body, divine to wear; and the amazingly flattering bias cut not only flatters the female form and is so forgiving with sizing, it also allows the fabric to skim the body without clinging, letting you move, walk, dance and swish with elegant ease and sexy sensuality!! Become a 1930s screen icon in this stunning gown as you glide down the aisle stand out from the crowd at that vintage themed ball, formal dinner dance, or red carpet event light up a very special occasion be glamorous, seductive and red-carpet ready as you captivate and capture your own moment of Hollywood glamour from the golden age of style and opulence in a dress to fall in love with and fall in love in!!
Please message us to enquire. THE MOST STUNNING, SENSUAL, ICONIC STATEMENT DRESS! Due to the very accommodating and flattering bias cut, which creates a quite a bit of'give' to the fabric, this dress will fit a variety of sizes. There is no size label in this dress.
The sizes given below are estimated based on the measurements so please see measurements below to be sure of fit. Please bear in mind when considering sizing and measurements that the dress can be worn very fitted, or slightly looser and both ways look really stunning!! Please also bear in mind that this dress could be easily adapted to fit by a seamstress if required. UK estimated 6 - 14 might fit other sizes please see measurements below.
EURO estimated 34 - 42 might fit other sizes please see measurements below. US estimated 2/4 - 12 might fit other sizes please see measurements below. Due to the very accommodating and flattering style and bias cut, which creates a quite a bit of'give' to the fabric, this dress will fit a variety of sizes. All measurements are taken with the garment laid flat so please double up for all the way around where appropriate. All measurements are taken with the garment pulled a bit to flatten and please be aware that there is inevitably a slight discrepancy in the ways different people measure so all measurements are approximate and please give or take about a ¼ inch or so either way.
Please measure against a similar garment of your own which you know fits you well. Bust armpit to armpit across front from approx 17 inches and up to approx: 19 1/2 inches this can be worn tighter fitting or looser fitting and still look superb.
Waist up to approx: 16 1/2 inches this can be worn tighter fitting or looser fitting and still look superb. Hips Free Size very approx: 23 inches (please remember to double up). Taken from shoulder seam where it meets neckline, and down front of dress to hem approx: 61 inches remember that with a person wearing the dress, the length will be taken up a little bit when worn (also, can easily be altered).
Length at back taken from shoulder seam where it meets neckline, and down back of dress to longest point of train approx: 82 inches. Sleeve Length - taken from shoulder seam and along TOP of sleeve to its longest point - approx: 23 inches.
And Kate Mosss 1930s Inspired Gatsby Wedding. There are key eras of the 20th Century whose fashion we look back on and long for the 1930s is undeniably one of them; and thanks to evocative TV shows and fabulous period drama films, the fashion of the 20s and 30s is having a huge revival, and vintage pieces are being sought after like never before.. And never was there a decade more in sync with cinema than the 1930s just think of Jean Harlow, for example, who so often wore white silk and satin gowns on screen, and which gave her a luminous quality which many a bride wanted to emulate... And think of Rita Hayworth in Gilda wearing THAT beyond sensual long black dress...
Or Ginger Rogers dancing with Fred Astaire in so many exquisite 1930s ballgowns. The evening gowns of the 30s era were imitations of the glamorous evening dresses worn by Hollywood movie stars and were designed to reflect the elegance, romance and glamour of the age, in everything from the drape of the fabric, to the Art Deco inspired beading, lace and jewel embellishments. For most fashionable 1930's society women, a long, sleek appearance was very much desired and a natural, elegant silhouette became the fashion with accents on the bias cutting and draping and fluting of the gown's fabric. Dresses were often made of slipper satins, in silk especially, or in fluid rayon and the fabrics and designs mirrored the cut and movement of the dresses worn by actresses and dancers such as Ginger Rogers, who were adored by thousands of movie goers. Very many couturiers acknowledged the impact the movies had on their designs, one stating. "We, the couturiers, can no longer live without the cinema any more than the cinema can live without us". In the late 30s, emphasis was moving to the back, and backless or deeply buttoned gowns became all the rage. As in the 20s, close fitting cloche cap headpieces were very much in fashion, and through the 30s they became more sophisticated and sleek, hugging the head and matching the sleek lines of the silk bias silhouette. Moving to a modern day celebrity, when Kate Moss got married, the fashion icon and supermodel took inspiration from the 1930s and The Great Gatsby to create a wedding so glamorous, elegant and romantic it has influenced thousands of brides to turn to the roaring twenties and thirties for inspiration.. The model showed off her 30s inspired theme in a Galliano gown, with a sheer slip dress, bias cut in silk, with a bodice detailed with a sheer overlay embroidered with gold sequins while the skirt was an intricate web of gold beading, embroidery and rhinestones. Kate perfected the look with a 1920s inspired lace cap veil, embroidered with flowers, beautiful bridesmaids dressed in flowing white gowns and her husband, dressed in a pale blue suit. Brides to be and the fashion world alike, waited in baited breath for this glamorous union, and it certainly didn't disappoint and ever since, Kates 30s inspired nuptials have sparked a vintage wedding frenzy for 20s/30s Great Gatsby inspired weddings and wedding dresses.. Think of Pippa Middleton in THAT beautiful sheath of a dress... Think of Jean Harlow in all her sleek glamour... Think of Marilyn Monroe, the platinum blonde in platinum silk...
Think of Rita Hayworth as the femme fatale Gilda in that sensual black dress.. The item "DRESS 30s SILK VINTAGE LACE WEDDING BALLGOWN 20s 40s VAMP GATSBY DECO GODDESS" is in sale since Thursday, April 25, 2019. This item is in the category "Clothes, Shoes & Accessories\Specialty\Vintage Clothing & Accessories\Women's Vintage Clothing\Dresses". The seller is "theatreoffashion" and is located in Ivybridge. This item can be shipped worldwide.
Waist Size: Up to approx 33" ~ please see listing
Size: M (12-14)
Modified Item: No
Hip Size: Free Size ~ please see listing
Style: Vamp/Siren/Sensual/Elegant/Beautiful/Gatsby
Look: Art Deco/Hollywood Glamour/1930s/Wedding/Luxury
Decade: 1930s
Chest Size: Up to approx : 39" ~ please see listing
Material: Soft Fluid Liquid Luxury 100% Silk & Soft Lace
Original/Reproduction: Original
Vintage Type: True Vintage
Main Colour: Ivory
Brand: Unbranded ~ Original Iconic 1930s True Vintage