GIOVANNI MESCHINI Signed ORIGINAL Hand Colored VINTAGE Art Deco POCHOIR 1930s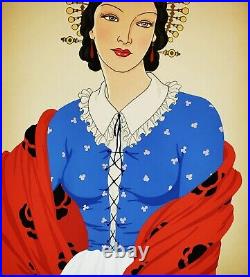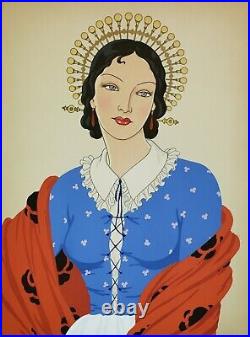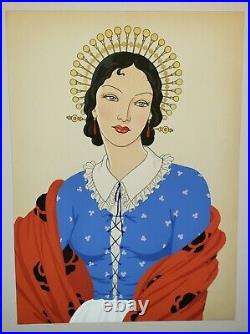 Artist: GIOVANNI MESCHINI (Italian, 1888 - 1977). Medium: Original Hand-Colored Pochoir - 1930s Vintage Art Deco. Edition: Limited Edition, exact edition unknown, records show around 300 impressions of this image. Signature: Signed via printed text recto or verso. Size: 15 1/2 x 11 1/2 inches.
Publisher: Ars Nova - Roma, Italia. Giovanni Meschini emerged as the master of the Pochoir. Influenced and encouraged by the work of Umberto Brunelleschi, he established his Ars Nova studio in Terni Italy. Meschini's Ars Nova pochoirs are immediately recognizable with the applied tempera pigments slightly rough to the touch. The works are also often marked with the studio name and the Italian text "Dipinta a Mano" (meaning hand painted).
About the Pochoir process: Once dismissed as kitsch art, the Pochoir works by Meschini have found new admirers in an age when computer-enhanced digital imaging can create art reproductions in such precise detail they are hard to distinguish from the originals. Meschini's elegantly simple Art Deco images remind us of a world we have lost, where beautiful objects for everyday use were still made by hand. The Pochoir is a stencil-based coloring technique that dates back many centuries.
The technically-challenging method was revived in early 1900's Paris and became very popular in the post WW1 Art Deco years. Fashion illustrations and limited edition books were published using the technique. Pochoir printmakers work from an original color image, deciding just how many different layers of colors are needed to recreate its palette and tone in production.
Holes are, then, cut for each color layer in thin metal or plastic stencil sheets. Carefully aligning the stencils on top of a piece of paper already printed with a black and white image or line-drawing, the pochoir artist dabs watercolor or gouache into the cut-out areas with a small, coarse-haired brush, called a pompon, making certain the paint does not seep into other parts of the protected paper underneath. It is a laborious process, involving, at least, 20 to 30 different color stencils and sometimes a 100 and even 250! The finished pochoir prints have a freshly painted look and a textured surface you can feel.