Vintage 1920s Art Deco Large FormfitAdvertising Wall Statue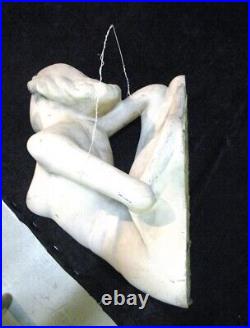 This vintage Art Deco wall statue is a true rare gem from the 1920s in excellent condition. With its sleek design and white color, it's sure to add a touch of elegant whimsy to any space.
The statue is an original piece, created in the United States, and perfect for collectors of advertising memorabilia. The "Life by Form Fit" brand is featured prominently in the sculpture, making it a unique piece of history.
It would make a great addition to any collection or as a standalone statement piece.