VINTAGE Degenerate ART DECO LITHOGRAPH Military Love Original PENCIL SIGNED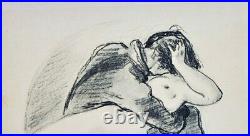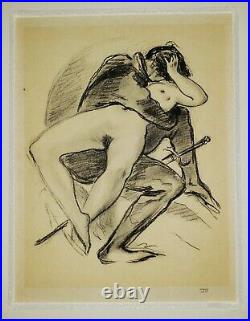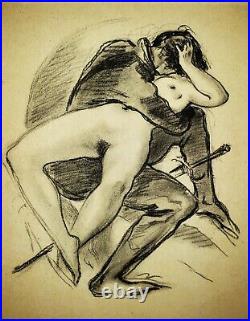 Artist: JARKA STILKA (Czech, 1906 - 1940) and PIERRE LOUYS (French, 1870 -1925). Title: "Allegories of the Opera" - Now, That's Loving Our Military Men! Medium: Original Lithograph printed on Arches. Signature: Signed by the Artist in pencil, LR. Edition: Each lithograph not individually numbered, but the portfolio was printed in an edition of 100 signed impressions.
Size: 11 x 7 1/2 inches (image). Provenance: Hatay Stratton Fine Art, Northampton, Massachusetts.
About the Artist: JARKA STILKA (Czech, 1906 - 1940) was an infamous artist and illustrator of risqué erotica in his native Czechoslovakia and later, in Germany. He was lightly sought after for the illustrations of period works in poetry and fiction, particularly for such notable literary names as the French poet Pierre Louys. While he has a sport life-span, his output, which limited because of his early death, is highly sought-after for their high artistic quality, particularly in his modern-leaning deco renderings of erotica during the 1920s and 1930s Europe. PIERRE LOUYS (French, 1870 -1925) was a French poet and writer, most renowned for lesbian and classical themes in some of his writings. He is known as a writer who sought to "express pagan sensuality with stylistic perfection".
He was made first a Chevalier and then an Officer of the Légion d'honneur for his contributions to French literature.